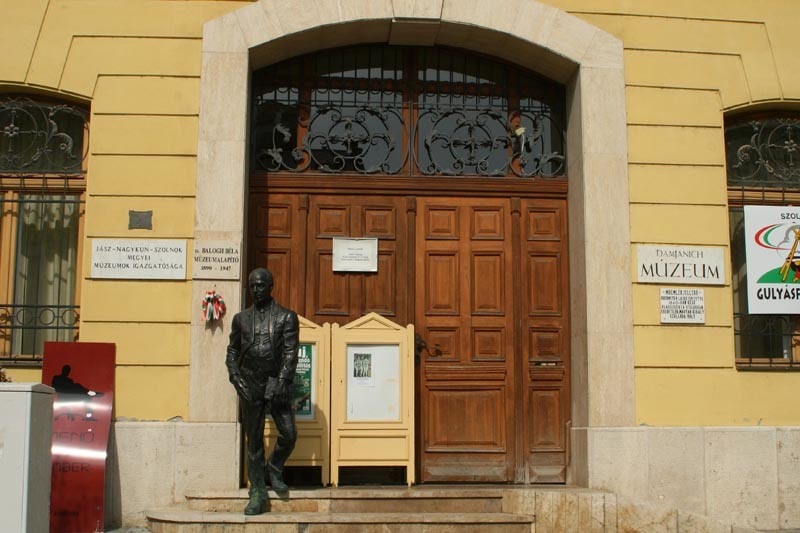 In front of the Art Colony you can find one of the symbols of Szolnok, the monument made of white Carrara marble which was set in the memory of János Damjanich military general and the heroic fight of his soldiers in 1912. Opposite to the statue, on the other side of the river Zagyva you can find the district called Tabán. This area of the town preserved the historical street structure of the earlier fishing village, today already including renewed, modern houses. This is a favorite part of the town both for the people living here and the visitors. At the bank of Zagyva river and on the dam there is an active life all around the year, as in the pleasant natural environment the fishermen, walking, cycling or running people also can enjoy their free time here, and in the winter the children can enjoy sledging.
The Country House of Tabán was built in 1930's, today it accommodates the exhibition of the fishing tools of the past eras. 
Opening hours of the Country House:
From 1st May until 30th September it is open on each Wednesday and Thursday from 9:00 a.m. till 1:00 p.m., on Fridays and Saturdays from 1:00 p.m.  till 5:00 p.m. 
Contact details: 
Zagyva bank /5000 Szolnok, Zagyva-part/
Country House address: 5000 Szolnok, Tabán u. 24.
Mobile:  +36 20 422-4473, +36 56 421-602
E-mail: muzeum@djm.hu; titkarsag@djm.hu
Website: http://www.szolnoktersegiprogramok.hu/damjanich-szobor-es-a-taban-3236.html
Facebook:  https://www.facebook.com/groups/1134874066683538/